UNIVERSITY OF ABUJA
(Office of the Vice-Chancellor)
CENTRE FOR SIWES AND STUDENT EMPLOYMENT (CSSE)
The Vice-Chancellor Professor Abdul-Rasheed Na'Allah at his first visit to the Unit on the 2 nd July, 2019 approved that the SIWES Unit be renamed as Centre for SIWES and Student Employment (CSSE) with an additional responsibility of coordinating work placement for University of Abuja students within the University.
The Centre coordinates two programmes, Student Industrial Work Experience Scheme (SIWES) for undergraduates in SIWES participating Departments/Faculties and Student Employment Scheme (SES) for all undergraduate students of the University of Abuja from 200 level to their final year of study across various
disciplines.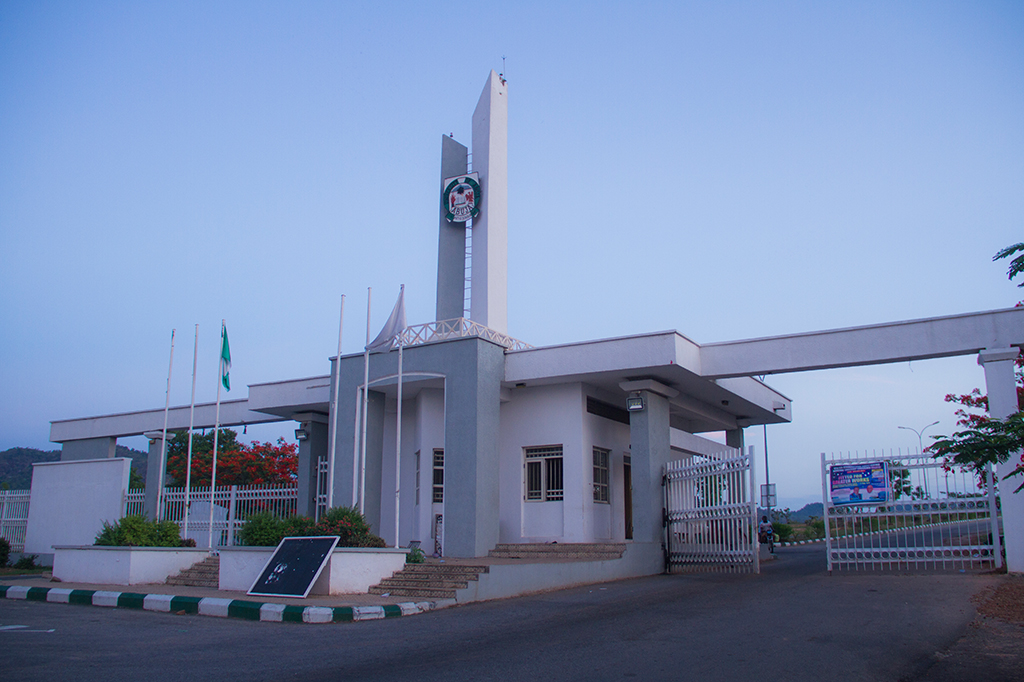 STUDENT INDUSTRIAL WORK EXPERIENCE SCHEME (SIWES)
The Student Industrial Work Experience Scheme was initiated by the Industrial Training Fund (ITF) in 1973. It is a tripartite programme involving student, Universities and Industries. The Scheme is funded by the Federal Government, jointly regulated by ITF and the National Universities Commission (NUC). The University of Abuja following its opening of academic activities in 1990 established the SIWES Unit in 1996 under the Office of the Vice Chancellor. The Unit is headed
by a /Director, who directs and coordinates SIWES operations within and outside the University and reports directly to the Vice Chancellor.
It was initially headed by Professor J.S.A. Adelabu of Physics Department, who handed over to Mr. E.O. Ejeikwu of the Department of Biological Sciences in 2003.
The Unit has since then experienced change in leadership as follows:
S/No
NAME
DEPARTMENT
PERIOD
1
Mr. E.O. Ejeikwu
Biological Sciences
2003-2005
2
Dr (Mrs). R.W. Ndana
Biological Sciences
2005-2009
3
Mallam I.D. Umar
Biological Sciences
2009-2013
4
Dr. E.O. Effiom (Late)
Chemistry
2013-2013
5
Dr. N.N. Abdulsalam
Physics
2014-2016
6
Dr. E.M. Eronu
Mechanical
Engineering
2016-2018
7
Dr. Grace Oyiza Anibasa
Biological Sciences
September 2018-Date
The Director is supported by administrative and secretariat staff. The following supporting staff served the Unit till date. Currently it has three tenure supporting staff –
Mrs Patricia Anne Mac-Chile, Mallam Adamu Lassi Mohammed (Administrative Officers), Mr. Maurice U. Oguh (Secretary) and an Adjunct Caretaker/Office Assistant (Mr Daniel Shugaba Yusuf).
S/No
NAME
DEPARTMENT
PERIOD
1
Mr Yakubu .A. Dantani
Registry-Administrative

Officer

2018- February 2019
2
Mr Yakubu .A. Dantani
Registry-Office
Assistant/ Caretaker
2014-2018
3
Mrs Josephine Okogbue
Registry-Secretary
2005-2008
4
Mr Friday Owoiche
Registry–Office
Assistant/ Caretaker
2005-2009
5
Mrs Juliana Oligio
Registry-Secretary
2011
S/No
NAME
DEPARTMENT
PERIOD
6
Mrs Ademola
Registry-Secretary
2011-2017
7
Mr Maurice Oguh Uchechi
Registry-Secretary
2017-Date
8
Mrs Mac-Chille Patricia Ann
Registry-H.E.O
February 2019-Date
9
Mr Adamu Lassi Mohammed
Registry-P.E.O
July 2019-date
10
Mr Daniel Shugaba Yusuf
Adjunct Caretaker/Office

Assistant

November 2018-date
AIMS AND PHILOSOPHY OF SIWES
The Student Industrial Work Experience was established to bridge the gap between theoretical knowledge and practice. The aim and philosophy of the programme include the following:
To provide an avenue for students to acquire industrial skills and experience during their course of study.
To prepare students for industrial work situation that they are likely to meet after graduation.
To expose students to work methods and techniques in handling equipment and machineries.
To provide student with the opportunities to apply their educational knowledge in real work situations, thereby bridging the gap between theory and practice.
To make the transition from the world of schooling to the world of work easier through enhancing students contact for later job placement by way of familiarizing and exposing themselves to the needed experience in handling equipment and
machinery.
These broad aims are now being tailored to meet to current trends in technology and development.
There are several participating Departments in the scheme every SIWES year, where students are attached to various industries, companies and organizations between three months to one year. Academic staff of such Departments are required to supervise the students, while the Centre monitors both staff and students to
ensure they actually participated in the scheme. 
Participating Departments and their Departmental Coordinators till date include:
| S/No | NAME | DEPARTMENT | PERIOD |
| --- | --- | --- | --- |
| 1 | Dr B.M. Mofio | Biological Sciences | 2002-date |
| 2 | Dr Gabriel Adeyemi | Chemistry | 2015-2018 |
| 3 | Dr A.O. Adeniji | Mathematics | date |
| 4 | Mr M.O. Nasiru | Statistics | date |
| 5 | Dr. Hashim Bisallah | Computer Science | date |
| 6 | Mr. I.O. Okwokwo | Physics | 2017-2018 |
| 7 | Dr. S.C. Ugoh | Microbiology | Date |
| 8 | Dr Akanbi.O. | Geography | 2018 |
| 9 | Dr.E. Jenkwe | Geography | March, 2019-date |
| 10 | Dr Ekpo Charles George | Science and Environmental Education | Date |
| 11 | Dr Chibuogwu Chika Ijeoma | Faculty of Agriculture | 2016 – March, 2019 |
| 12 | Dr (Mrs) S. W. Asala | Faculty of Agriculture | March, 2019- Date |
| 13 | Dr Adiat Arogundade | Mechanical Engineering | 2018–date |
| 14 | Dr Mbaezue Donatus | Civil Engineering | March 2019-date |
| 15 | Engr Yetunde Aladeitan | Chemical Engineering | date |
| 16 | Dr Shawulu James Clinton | Faculty of Veterinary Medicine | 2018-date |
All the Departments in the Faculties of Science, Agriculture, Veterinary Medicine and the Department of Science and Environmental Education have credit units allotted to SIWES as a core course. Students are graded after successful completion of the scheme and upon submission of the students Logbook, Technical Report and oral defence of their participation. The students from ITF funded programmes are entitled to ITF stipend upon verification of students logbooks by ITF. Details of this programme is in the SIWES handbook proposed for use in the 2019/2020 academic year.
SIWES: Get a skill today!
Be creative, innovative and productive.
THE STUDENT EMPLOYMENT SCHEME (SES)
The Students Employment Scheme (SES) is an integral part of the Student Industrial Work Experience Scheme targeted at developing work ethics among Nigerian youths particularly students of the University of Abuja. Every Industry/Organization would in addition to acquired skills, relevant training and job specification qualities show kin interest and place emphasis on work ethics and culture. This can be developed and cultivated in our students by exposing them to appropriate work environment and experience which will help acquaint them with organizational core values to promote visionary leadership and excellent service delivery to the University and the Nation at large. The Centre for Student Industrial Work Experience Scheme and Students Employment (CSSE) will offer career advice, information on workshops and work experience opportunities and placement within the University Community.
The Centre offers support for students throughout their times in the University of Abuja at most levels of their studies. Most undergraduates can do a stipend paid work placement in their second year and penultimate year of study. A dedicated
placement support will help get students work placement subject to availability of vacancies, University's budget and ability of students to meet the eligibility criteria.
The Centre for SIWES and Students Employment works with objectives of skilling the young work force of the University of Abuja and elevating their skills to global standards for employment in Nigeria and globally. It is the University nodal agency for facilitating ad coordinating various skill development initiatives. The Centre also promotes, establish and set up tools to monitor and govern the work placement of students with the following objectives:
To promote acquisition of competent standard, ideal work ethics and technology that meet the demands of various industries locally and globally.
To teach and inculcate employability skills in students to prepare them for actual work experience in their future careers and endeavours.
To provide trainings in various work ethics and value re-orientation to enhance students capacity and ability for participation in the work placement scheme via trainings on financial skills, entrepreneurial skills, work ethics, emotional intelligence and resilience, technical/specific skills peculiar to various fields, strength finders, and career assessments.
The Undergraduate students of the University of Abuja from 200 level and above will become eligible to apply for work placement within the University across different Units, Departments, Faculties and Colleges. However, the number of students that would be recruited will be subject to availability of spaces across various Units.
For more details, download the SES fact sheet from www.csseuniabuja.ng